The arrival of a baby is a significant milestone that deserves celebration with loved ones. While practical gifts are appreciated, gifting new parents with a bouquet of flowers can truly enhance their joy.

If you want to congratulate a friend or family member on the birth of their baby boy, [...]
Add To Cart
Add 8 Balloons for $42.95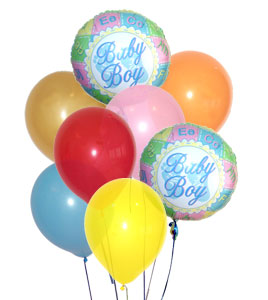 The arrival of a baby is a significant milestone that deserves celebration with loved ones. While practical gifts are appreciated, gifting new parents with a bouquet of flowers can truly enhance their joy.

If you want to congratulate a friend or family member on the birth of their baby boy, [...]
The arrival of a baby is a significant milestone that deserves celebration with loved ones. While practical gifts are appreciated, gifting new parents with a bouquet of flowers can truly enhance their joy.

If you want to congratulate a friend or family member on the birth of their baby boy, [...]
The arrival of a baby is a significant milestone that deserves celebration with loved ones. While practical gifts are appreciated, gifting new parents with a bouquet of flowers can truly enhance their joy.

If you want to congratulate a friend or family member on the birth of their baby boy, our Boys Are Best! bouquet is an excellent choice. This premium flower selection includes Lavender roses, blue iris, lavender carnations, lavender daisies, and white Asiatic lilies, arranged in a beautiful wooden basket. A special It is a boy! balloon is attached to convey heartfelt wishes for the new arrival.

Each flower in the bouquet carries a special meaning, with lavender roses symbolizing love and adoration, blue iris representing royalty, daisies symbolizing childbirth and new beginnings, and white lilies associated with purity and virtue.

Our Boys are Best! bouquet is carefully crafted with attention to detail, and we offer same-day delivery through our network of local florists throughout the United States. We can also deliver to hospitals nationwide and accept advance bookings.
Item No. D7-4903
Price: $74.95