What is the unifying factor that ties together all of our joyous celebrations? Whether it's a festive birthday gathering, a long-awaited reunion, a romantic evening meal, a graduation ceremony, an anniversary fete, or simply a day to revel in life's pleasures, what we are truly commemorating is the [...]
Add To Cart
Add 8 Balloons for $42.95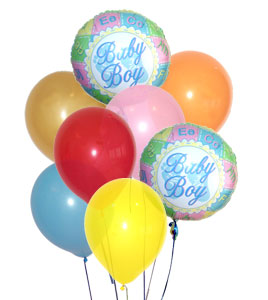 What is the unifying factor that ties together all of our joyous celebrations? Whether it's a festive birthday gathering, a long-awaited reunion, a romantic evening meal, a graduation ceremony, an anniversary fete, or simply a day to revel in life's pleasures, what we are truly commemorating is the [...]
What is the unifying factor that ties together all of our joyous celebrations? Whether it's a festive birthday gathering, a long-awaited reunion, a romantic evening meal, a graduation ceremony, an anniversary fete, or simply a day to revel in life's pleasures, what we are truly commemorating is the [...]
What is the unifying factor that ties together all of our joyous celebrations? Whether it's a festive birthday gathering, a long-awaited reunion, a romantic evening meal, a graduation ceremony, an anniversary fete, or simply a day to revel in life's pleasures, what we are truly commemorating is the love and encouragement of those closest to us. And there's no better way to express that love than with the timeless gift of flowers, which Ocean Devotion has in abundance to make your beloved feel truly special.

This breathtaking arrangement showcases a stunning blend of blue hydrangea, roses, and button spray chrysanthemums, paired with ethereal white dahlias, snapdragons, and huckleberry. Each bloom is meticulously arranged in a magnificent white and green floral crown, accented with a contrasting cluster of deep blue hydrangea and presented in a striking cobalt glass vase. The white roses symbolize innocence and purity, while the chrysanthemums exude optimism and joy. The dahlias convey a sense of dignity and grace, signifying your unwavering commitment to your beloved, while the hydrangea represents heartfelt sincerity and the snapdragons convey your admiration for your loved one's warm and friendly nature. And if your beloved is familiar with the language of flowers, they'll understand the message of I'll be your huckleberry conveyed by this exquisite arrangement.

To demonstrate to your loved one how much they mean to you, order an Ocean Devotion today from our local florists in Canada and the U.S. Whether you require same-day delivery or prefer to schedule a fresh delivery on a future date, we've got you covered. Allow your loved one to plunge into the sea of goodness and feel truly cherished on their special day.
Item No. T163-1A
Price: $79.95