Surprising someone with a magnificent bouquet of flowers on their special day is a beautiful gesture. However, finding the perfect gift for occasions like birthdays, anniversaries, or Mother's Day can be challenging. Don't worry, Teleflora's Blooming Visions Bouquet is here to solve your gift-giving[...]
Add To Cart
Add 8 Balloons for $42.95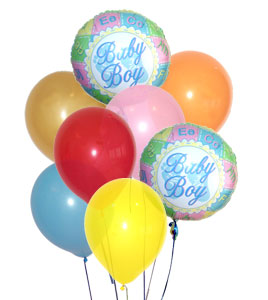 Surprising someone with a magnificent bouquet of flowers on their special day is a beautiful gesture. However, finding the perfect gift for occasions like birthdays, anniversaries, or Mother's Day can be challenging. Don't worry, Teleflora's Blooming Visions Bouquet is here to solve your gift-giving[...]
Surprising someone with a magnificent bouquet of flowers on their special day is a beautiful gesture. However, finding the perfect gift for occasions like birthdays, anniversaries, or Mother's Day can be challenging. Don't worry, Teleflora's Blooming Visions Bouquet is here to solve your gift-giving[...]
Surprising someone with a magnificent bouquet of flowers on their special day is a beautiful gesture. However, finding the perfect gift for occasions like birthdays, anniversaries, or Mother's Day can be challenging. Don't worry, Teleflora's Blooming Visions Bouquet is here to solve your gift-giving dilemma.

This bouquet is a stylish and sophisticated arrangement, adorned in shades of lavender, that can express your true emotions to the recipient. Whether you want to convey love, kindness, or gratitude, this bouquet is the ultimate gift for the spring season.

The Blooming Visions Bouquet comprises purple double lisianthus and lavender roses, surrounded by a variety of purple button poms, pink limonium, purple larkspur, and lush greens. This arrangement is a true masterpiece. It is presented in a stunning purple swirled glass vase that exudes elegance and sophistication. The recipient will be amazed by the beauty of this gift and feel the love that went into selecting it.

Our local florists expertly craft all of our flower arrangements, including the Blooming Visions Bouquet, using only the freshest flowers. We also offer same-day delivery throughout the USA and Canada, ensuring that your gift arrives in impeccable condition.

Whether you're looking for a gift for a special occasion or want to express your feelings to someone special, the Blooming Visions Bouquet is the perfect choice. Give the gift of beauty and love and make someone's day brighter with this stunning arrangement. They'll treasure it for years to come.
Item No. B23-5148
Price: $79.95